Another day in June, another rant of mine about ableism on Mastodon. Except this time my words received a lot of praise, and I was sent an unexpected invitation from David Ross:
"Would you ever consider holding a session at MozFest? CFP currently open until August 1."
At that time, I had less than a year of professional experience in tech - and my main source of income was my work as a documentarian in Tainacan, a public software being developed by the Laboratory of Participative Public Policies (L3P), based at MediaLab/UFG, in partnership with the Brazilian Ministry of Culture and the Brazilian Institute of Museums. The amount I earned could never pay me a trip to London even if I saved every penny for years. No problem, David insisted. He told me Mozilla has a travel stipend program to help people like me - who simply couldn't afford such trip - and that I should really consider submitting a session. That was the first time I was actively invited to submit an activity to a tech conference, and I was honestly stunned. It was the kind of invitation I never received from any regional tech events I keep attending every year.
I submitted two sessions as the main facilitator and was included in another submission as a co-facilitator. I got so excited about the perspective of joining the Mozilla community I also applied to the sixth round of Mozilla Open Leaders. And, in the beginning of September, I received two emails: one telling me I was accepted for Mozilla Open Leaders, and another saying that Ephemeral, lost, forgotten - a session I submitted about the consequences of centralisation on efforts related to the preservation of culture -not only was claimed by the Decentralisation space but also granted me financial support to attend the festival on what would be the first international trip I would go in my life.
---
The Mozilla Festival Experience is absolutely different from every tech conference I ever attended - starting with the place where the event takes place every year: the Ravensbourne University.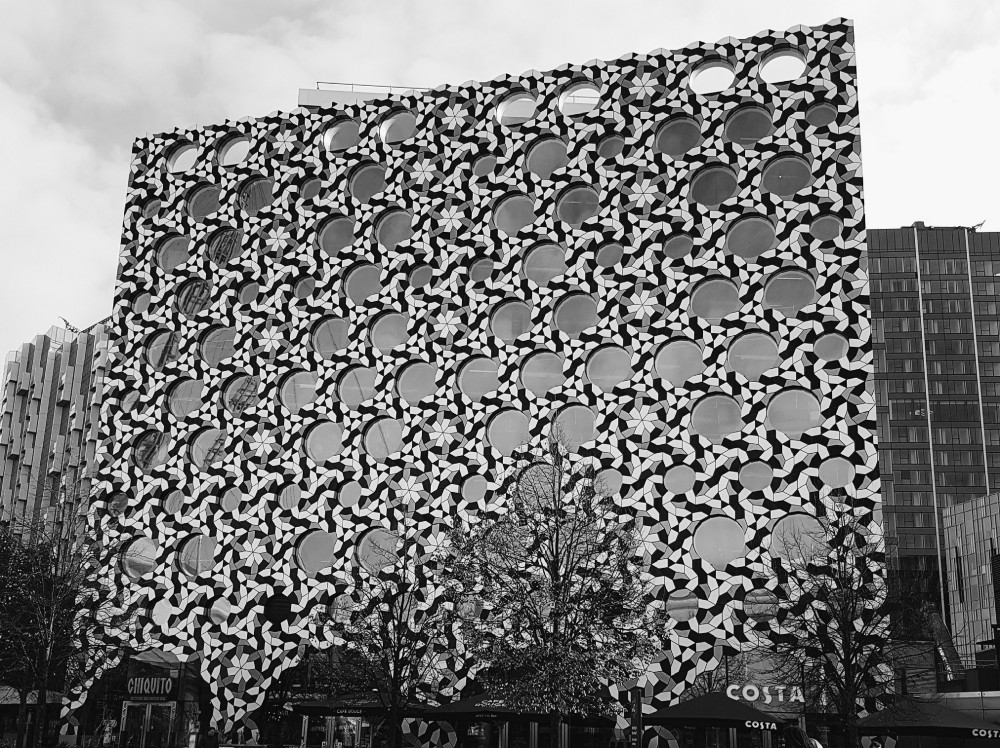 Instead of closed and isolated classrooms, you find open spaces and a really inviting atmosphere at Ravensbourne. That, and the strong artistic vein of the conference encourages MozFest organizers and participants to experiment with decor and makes the festival visuals really fun.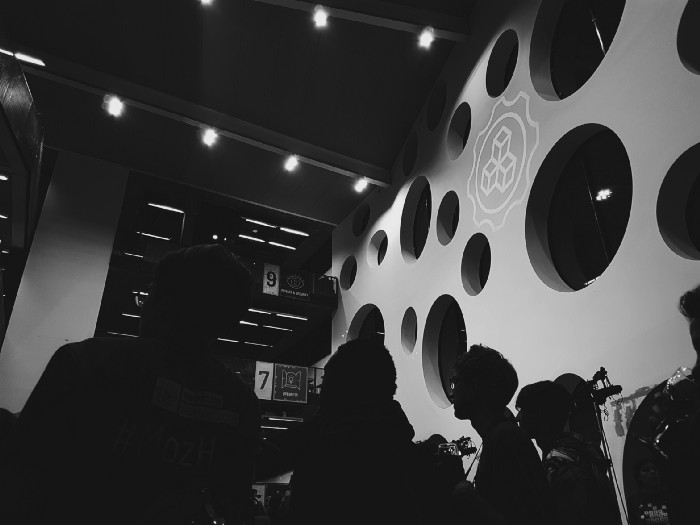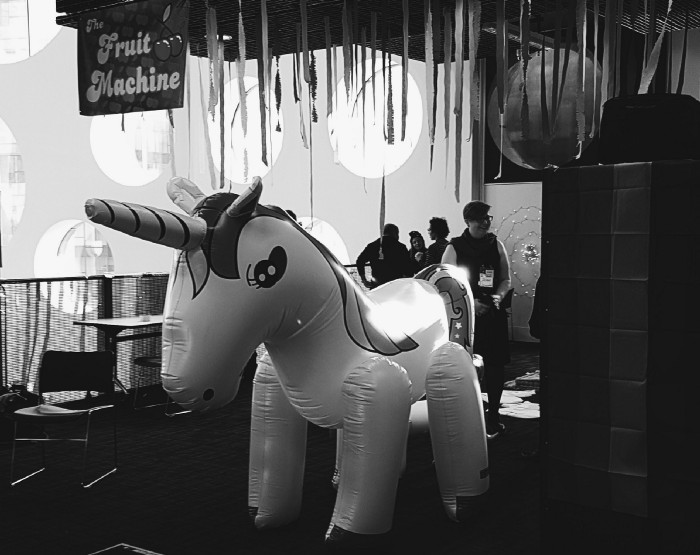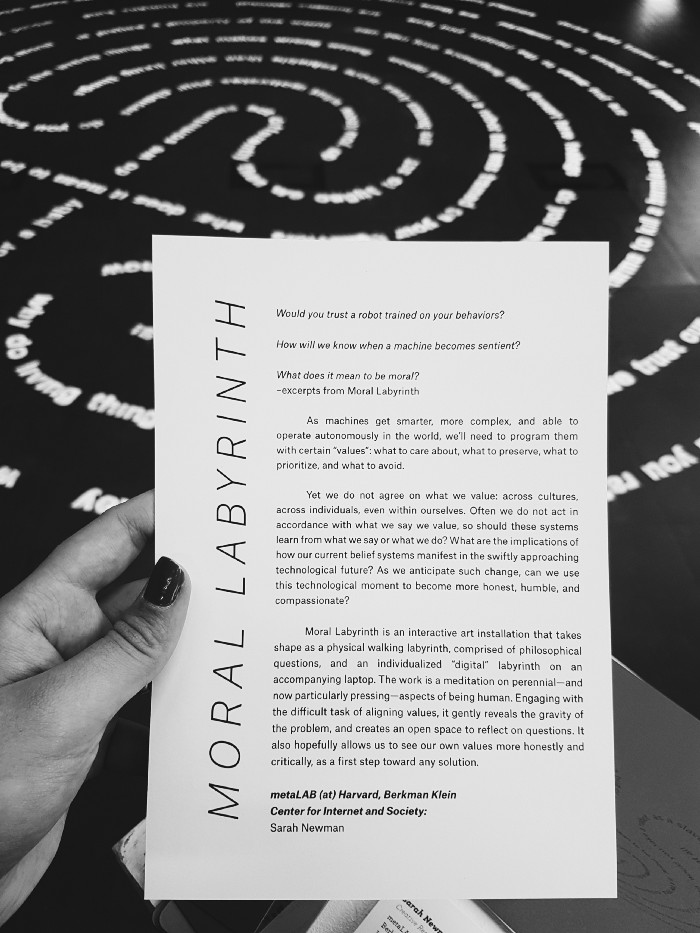 The most interesting thing about Mozilla Festival, though, is how everyone can experience it differently. If you are more of a traditional talk kind of person, you can focus your attention on Dialogues & Debates, which features notable participants personally invited by Mozilla. If you want to explore every single space, there is always a different session taking place. If you just want to hang out in a single space, go ahead - no one will stop you. If you want to have just practical experiences, shed sessions are a perfect match. If you like to be directly involved in debates, learning forums will be your cup of tea. If you are overwhelmed, there's a quiet space waiting for you. The event revolves around its participants, and makes a lot of effort to accommodate all needs.
My MozFest experience
My main goal was to meet and talk to as much people as possible, as well as let my curiosity guide me. Because of that, I only attended sessions. Here's the ones I attended:
October 27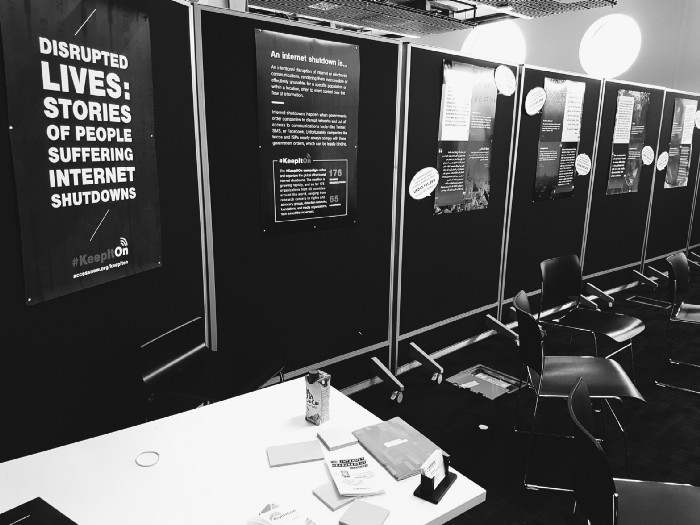 Is the Netflix of podcasts inevitable? (Decentralisation)
Unfortunately, due to the unfamiliarity with London public transportation, we arrived a bit late to this session, but still in time to join the debate about the advantages of offering a centralised and a decentralised solution to podcasts. I noticed a lot of the pros mentioned in favor of centralised platforms are about easiness to use, which is surely a challenge decentralisation initiatives have yet to overcome. Decentralisation solutions, though, seem to invoke a lot of expectations related to the democratisation of means of communication.
(Side note: I met Darius while participating in this session!)
Sociocracy: a practical introduction to consent-based decision making (Decentralisation)
I've been increasingly interested in studying systems of governance ever since I wrote an essay reflecting on my experiences as a Mastodon contributor. I had never heard about sociocracy before, so this session did a great job introducing me to that organizing all participants in two groups and giving us a project to work on to reach an agreement within the group. Here's the workflow we used:
Appoint a chair and a "note taker" → Agree on a time boundary → Invite a proposal → Ask for clarifying questions → Open for quick reactions → Test for consent → Draw out concerns → Group them → Elaborate resolutions → Test for consent on each resolution → Redraft the proposal → Test for consent
I learned that it resonates a lot with my desire to build communities in harmonious and consent-based principles, especially as it uses equivalence and transparency to achieve effectiveness. It was one of those topics I'll definitely spend the next weeks searching for all information I can find.
Defying our senses to promote diversity and inclusion in science communication with IGNITE (Decentralisation)
I met Gracielle Higino on Twitter after I became a Mozilla Open Leader and was amazed by how close we were without realizing! I got really curious about her session after learning more about IGNITE - that has a GitHub repository you should definitely check out -, so it was one of the first sessions I included in my schedule.
The participants and I listed in post-its all kinds of barriers that prevent the general public to access information - from language barriers (English-centered initiatives, use of jargons, people that speak too fast) to accessibility issues (such as heavy use of graphics and media without including resources such as audio description and closed captions, or the use of color palletes only to communicate a message, which may confuse colorblind people) and technical problems (websites that aren't optimised for access on mobile phones and/or with limited data connections, searching for primary sources can be difficult or sometimes impossible thanks to the lack of citations and the amount of paywalls that limit the access on more prestigious papers).
We were then encouraged to use any tool on the table to solve those problems - and let me tell you, there was an unbelievable diversity of things to use, as you can see in the photographs Gracielle included in her post. In the end, we wrote down a few tips for scientists that wish to make their work more accessible - that went from adopting the open access philosophy to changing the way they communicate. It was a great session.
Design for Renaming (Privacy and Security)
This was an interesting session both as a person involved with Outreachy - a program that needs to be as accommodating and welcoming as possible, and has one of the most inclusive forms I have ever seen - and as a non-binary person that honestly don't truly identify themselves with their legal name and currently uses a pseudonym in public works.
Participants were grouped in teams of three and asked to list situations where requesting "real names" or IDs- presuming it reflects the identity of someone accordingly- would provoke embarrassment, or even put their lives at risk by making them vulnerable to attacks of any sort. Then, we clustered those situations in common themes such as "financial" or "social" and proposed solutions to make more inclusive and ethical systems.
The facilitators, Emma and Cynthia, thoughtfully included content warnings and breaks to breathe to help people navigate the subject more safely. They deserve a lot of praise for facilitating a session in such a sensitive and welcoming way.
Unfortunately, I felt quite uncomfortable towards the end of this session as one participant in particular was insistent in pushing their ideas without any kind of input from the rest of the group. They kept disregarding what another participant, my partner and I suggested, protecting themselves behind the justification of "playing the devil's advocate". It was a bit jarring as this session happened in the Privacy and Security space, but didn't spoil my overall experience - especially as Emma and Cynthia did respond to that indirectly in the end of their presentation, saying: ask only for absolutely necessary information.
(Note: another good thing about this session was finally getting an Outreachy sticker!)
October 28
We woke up with messages saying the Jubilee line was not operating properly that morning. This gave us a bit of time to eat our breakfast and enjoy the view from the restaurant.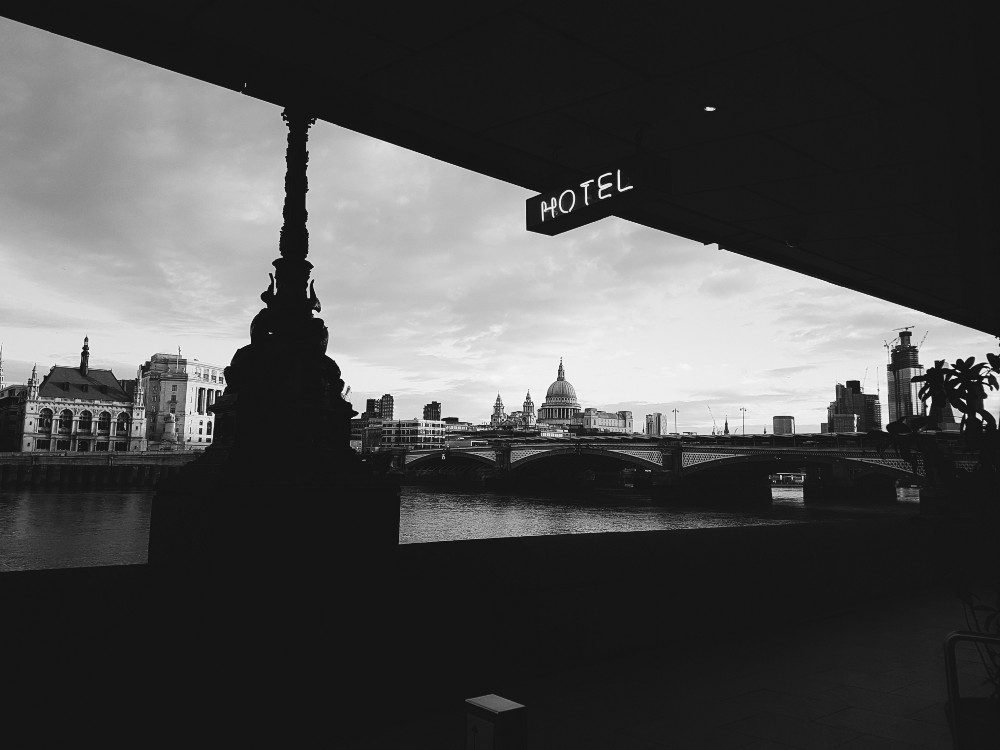 Even with some reports of delays, we headed to the Southwark station and asked an employee about the status of the Jubilee line. They reassured us it was working with some minor delays, so we entered the station and just had to wait for a little while to get in the tube.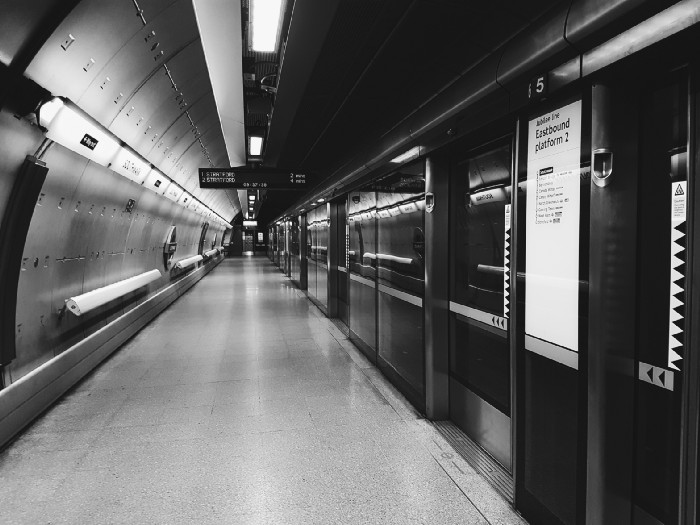 We were in London for a short amount of time so our views on their public transportation are truly anecdotal, especially as we didn't use the tube in peak times, but we do find funny people complaining about how unreliable London public transportation is when delays in Brazilian cities are way more frequent. And as a person that lives in a city which public transportation relies on buses only, tubes will always be fast and comfortable enough.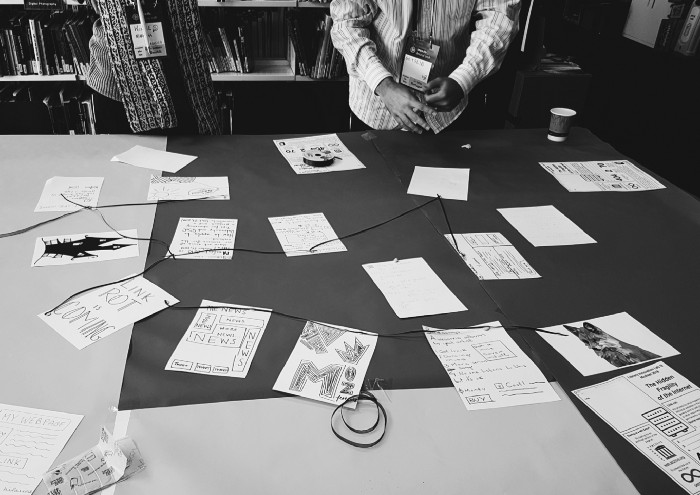 This session hit home as it addressed a subject relevant to what I have been researching in the last few months, so to me it was a pleasure to attend it. We had a lot of fun creating some web pages on paper as Clare explained some of the basic concepts behind her work. What would be a workshop aimed at people with more basic knowledge about the internet became a more casual conversation about ephemerality of content and preservation efforts while we prepared our pages to the link rot.
Talking about link rot, it was amazing to finally learn the name of that phenomenon that haunts my internet usage - and, as we discussed, a whole amount of public documents that reference a great amount of links that simply don't exist anymore as they were at the time they were mentioned. I will surely follow the development of perma.cc closely - and, if possible, make some contributions.
Decentralized Web Standards: From ActivityPub to Webmention (Decentralisation)
As a person who translated Mastodon for a year and had to follow its development closely to properly guide users through the interface, the internals of the software were always subject to my curiosity. It stuck out as the first implementation of ActivityPub, and it still provokes debates on procedures, interpretations and interoperability. This session worked as a nice introduction to the most interesting documents to explore along to some basic concepts, especially as I feel that much of the current discussion around decentralisation is too technical and impenetrable to beginners like me. Here's the list of documents they discussed a bit:
ActivityPub
Activity Streams
Activity Vocabulary (according to Darius, this one is the most interesting to look into first, as it will probably give you some good ideas!)
h-card
h-entry
h-feed
IndieAuth
microformats2
Micropub
Post Type Discovery
Webmention
WebSub
Microsub-speck
Ephemeral, lost, forgotten: how to help to preserve human history in an ever-changing world (Decentralisation)
Finally the session I facilitated! It brought together by far more people than I would ever expect, and I had a blast. At first, I was a bit nervous as my laptop absolutely refused any HDMI connection but as soon as a abandoned the idea of using slides to highlight important concepts and just carried on with a discussion about what kind of challenges historians from 100 years from now will face when trying to study our current way of life after my opening statements, everything went great. I noticed that sitting with the participants rather than being the only one standing up made them more comfortable to join the debate and explore their ideas. I would make rounds around the table to listen to them closely, and then add some spice to keep the discussion going. We talked about curation processes, the autonomy to tell your own story, the right to be forgotten, how hard it can be to understand the real context behind something… I wrapped up the session asking for them to write down one thing we should consider when preserving culture, and one thing we should be careful about.
Consider:
relationships
context
scope
people
individuality
horizon
the possibility of being remembered
the context in which it was created
the unattainability of true
emotional (empathy) state of author
Be careful about:
ownership
[being] inclusive
"completeness"
where's it from
view point
filter
the right to be forgotten
readiness for different sets of problems
the unattainability of true
motives
Highlight: the Decentralisation space
As I stated before, my session belonged to the Decentralisation space - and that ended up being my favorite space of all. Their theme was Xenshana, an open world heavily inspired by afrofuturism, and that made the Decentralisation experience remarkable.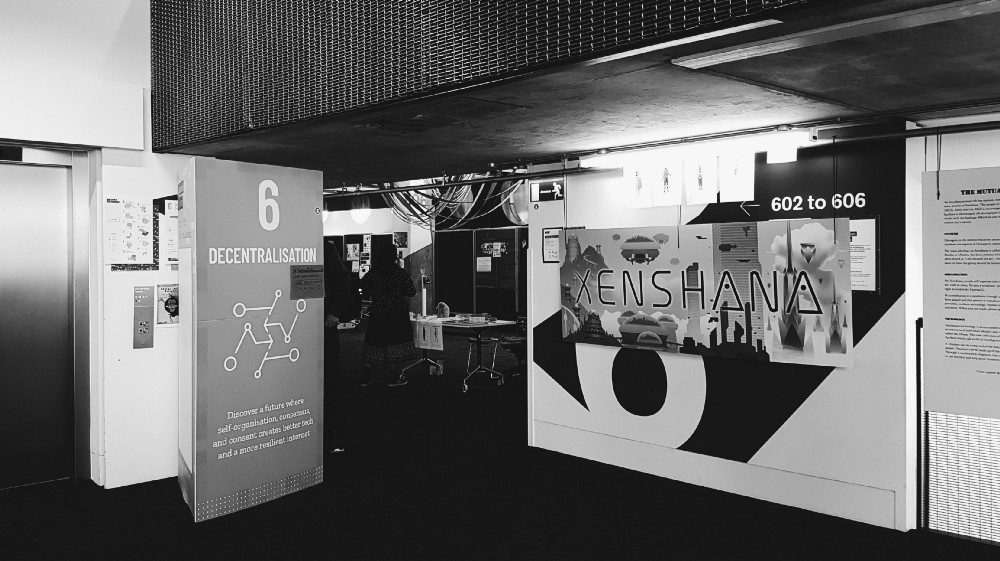 We were welcomed by Tendai, one of the Decentralisation space wranglers. She introduced us to the world of Xenshana, and invited us to join one of their four syndicates. My fiancé chose The Andromeda Initiative; I chose to join Mabwe Prima. We were handed cards with four questions about decentralisation, and encouraged to paint our hands with our syndicate markings.
After attending a couple of sessions, we would then come back and talk to one of the space wranglers. They would ask one of the questions in our cards, and if the answer satisfies them, we would receive a sticker, learn our secret greeting, and become a full syndicate member. A simple and ludic activity, but the perfect way to introduce people to the most fundamental principles of decentralisation and involve them in the story the space wanted to tell.
Acknowledgments
My time in London were some of the more intense and amazing days in my life. At the end of the festival, I was finally able to meet and hug David Ross (and thank him one more time for his words of encouragement!), and had a nice time talking to all the people he kindly introduced me to. In special, thanks Alicia for the nice chat in Portuguese! My partner and I enjoyed your company at the closing part a lot.
Thanks to all facilitators from the sessions I attended! We had some great conversations afterwards. Also, thanks to everyone that attended the session I facilitated! It was a nice surprise to see so many of you!
Thanks Darius for hanging out with us and being such a nice company! It was also a pleasure to meet and hang out with Emma!
Thanks to Ross Schulman for making me smile a lot when finally meeting each other, it was a pleasure to finally have a chat in person! Also, thanks to Tendai for being a sweetheart, exchanging experiences, being so excited about combining our efforts and having one of the most warm hugs I ever received.
During the trip, besides Gracielle, we also had the opportunity met Felipe (we caught the same flight to London and then back to São Paulo!), Geraldo, Cybelle and a lot of other people whom I don't have their handles! Thank you for welcoming us, chatting with us and passing the time with us - and if you met us there, please reach out! I would love to continue our conversations.