Getting ready to travel again
I haven't traveled in four years. My last trip happened in 2019 when I spoke at a local Google Developers Group event in Brasília. As a disabled person, I've been quite cautious about returning to all in person activities—the lack of testing and masking discourage me from attending most conferences and meetings.
CZI reached out to me by the end of December asking me if I had interest in attending a workshop in Buenos Aires in April (thanks for the recommendation, Karen!). Their main goal is to discuss Latin American participation in open science. They've been very accommodating of the fact I need to be accompanied by a carer and their COVID-19 policies are quite significant (they'll both test every person every day and require masking). I accepted their invitation and will be traveling to my neighboring country mid-April.
I've also started the process to request an American tourist visa in preparation for FOSSY. Although the queue is unbelievably long, I was able to schedule my consular appointments in time for the conference in Brasília, the nearest city with an American embassy. It's a very stressful process, but I'm sure it will be worth it in the end.
Semi-automating repetitive tasks
Sage and I have been experimenting with task automation. Sage did an amazing job at automating the creation of drafts for our community and our initial application reviewer calls. A task that would take us two or three days of long hours drafting emails took us less than a day this time around.
I started to toy with the idea of automating the process of writing letters of participation. We have three different templates for three different timeframes of the program, and they all involve paying attention to critical details such as intern name, community name, cohort dates, time commitment agreements, etc. I created an .odt file with just the Software Freedom Conservancy letterhead and a couple of scripts that ask for various inputs corresponding to those details I've mentioned.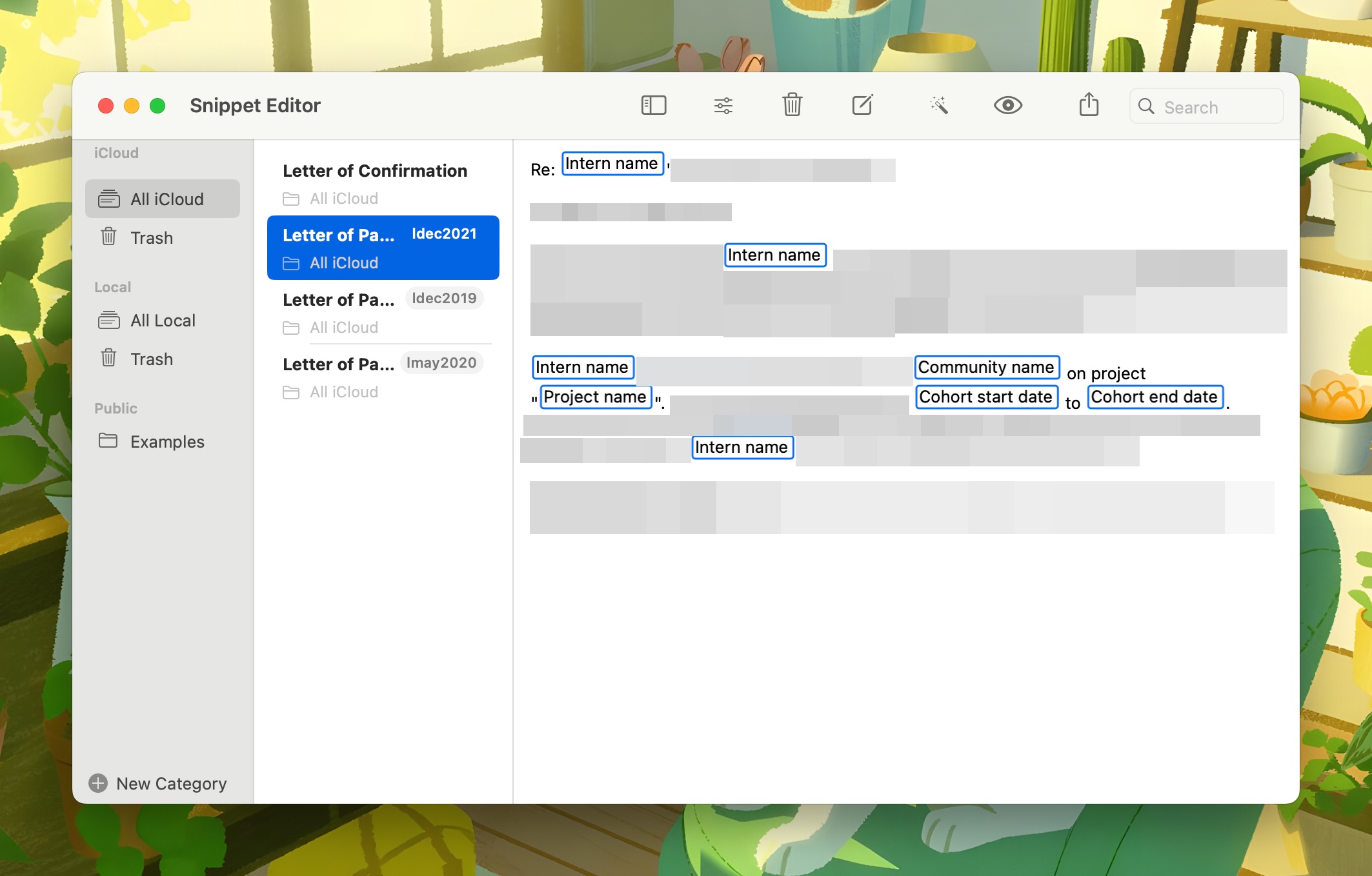 Our endgame is to have our website take care of such tasks!
Meeting with Outreachy alumna Gloria
Sage and I met with Gloria Dwomoh, an Outreachy alumna writing a master thesis on the impact of Outreachy. We established a communication baseline, a timeline to promote her questionnaire, and how each one of us can benefit from this study. Gloria mentioned struggling to find social systems theories to help her with her thesis and I was able to provide her a couple of useful frameworks from my area of expertise. We'll start to work together in March, and I can't wait to see the results of our collaboration!
Modeling Outreachy's organizational structure
My final Information Systems Engineering II project is to model the organizational structure of a real world organization, and I've chosen to model our own structure and the various worldviews involved in achieving our goals as an internship program. This architectural modelling will be done with Archi, a free and open source ArchiMate modelling software.